Teeth can become discolored for many reasons, including color-rich foods, certain lifestyle habits, and even the natural aging process.
Fortunately, brightening your smile can be quick and easy with cost-effective and non-invasive professional teeth whitening.
Drs. Chadwick Harris and Brent Culpepper offer in-office and take-home whitening options. Visit us Laurel, MS, near Hattiesburg, to begin.
We're pleased to offer the Philips Zoom!® whitening system for in-house whitening treatments. Zoom! can produce significant results in just one appointment at our Laurel practice.
Extrinsic Stains vs. Intrinsic Stains
What's the Difference?
The two types of dental stains occur for different reasons and react differently to teeth whitening. During a consultation,
Dr. Harris
or
Dr. Culpepper
can determine which type of staining you have and recommend the best cosmetic plan to enhance your smile.
Extrinsic Stains
Extrinsic stains affect the enamel, which covers the surface of the teeth. These stains usually result from the consumption of tobacco or dark foods and drinks, like marinara sauce and coffee. Extrinsic stains typically react well to whitening treatment.
Intrinsic Stains
Intrinsic staining originates inside the tooth and is visible through the enamel. These stains may be caused by dental trauma or even your genetics. go deeper, reaching further into your tooth. While intrinsic stains cannot be lifted with teeth whitening, they can be concealed with veneers or dental bonding.
What If Whitening Isn't Right for Me?
Even if teeth bleaching isn't the best choice for you, there are still a number of cosmetic dentistry options that can give you whiter teeth.
Dental bonding and porcelain veneers are both alternatives that offer whitening benefits and more. These options can be customized so you can adjust the shape and size of your teeth as well. We can even custom-color our dental materials so you can enjoy a dazzlingly bright transformation. If you want to whiten your smile and address issues like chips, cracks, and asymmetry at the same time, bonding or veneers can be great options.
No matter which treatment ends up being best for you, rest assured that our dentists are here to provide the finest results possible.
Visit a Dental Team
That Works With You
Have concerns about sensitive teeth, cost, or additional cosmetic aspects you'd like to refine? Dr. Culpepper and Dr. Harris will work closely with you to find the solution best for your goals and budget.
In fact, teeth whitening is only one of the many cosmetic dentistry services we offer at our practice. Dental bonding and porcelain veneers can be excellent alternatives for your cosmetic concerns, while custom dental crowns can help with both functional needs and aesthetic transformations.
We carefully mix our bleaching formulas to minimize the risk of tooth sensitivity during treatment. If you're concerned about cost, we accept CareCredit® financing to make teeth whitening more affordable.
To find out whether teeth whitening is right for you, contact our Laurel dentistry practice online or call:
Laurel Patients Feel At Ease
With Our Caring Team
They have the nicest staff you could ever want to meet. They were so gentle with my sons. Ms Laurie's biggest concern was that my youngest was not traumatized and enjoyed his time there and he sure did. We LOVVEEEEE HARRIS DENTAL CLINIC
View on Google
This office treats you like family. I've never had a bad experience and when I walk in for an appointment, it's the best environment.

Everyone asks about families and friends ... it's like a reunion each time!
View on Google
Choose In-Office Bleaching
For Stronger Formulas and Quicker Results
In-office teeth whitening treatments are recommended for patients who want to whiten their smiles in less time.
Under the supervision of one of our dentists, we are able to use stronger, faster-acting, and more effective whitening solutions than those found in take-home treatments or over-the-counter products.
Our Zoom! whitening system is so efficient that you may only need a single bleaching appointment to achieve your desired results. If you're tired of wasting time on lackluster over-the-counter products, visit our Laurel dentists for effective dental bleaching.
What to Expect
During In-Office Teeth Whitening
Our dentistry office uses Zoom! whitening technology, which can help you whiten your enamel by up to eight shades in a single 45-minute appointment.
Laurel patients appreciate the quickness and convenience of our in-office bleaching services.
Choose At-Home Whitening
For Results on Your Schedule
Patients often choose over-the-counter whitening treatments for the convenience. However, they rarely see substantial or lasting results, which means they're losing money on ineffective products.
At-home whitening kits from a dentist combine those desired aspects—convenience, results, cost-effectiveness—for a superior solution. You can enjoy high-quality treatment with durable results when it works for your schedule.
At-home whitening is also a great option for sensitive teeth. It uses a less concentrated teeth whitening formula than in-office treatment, so discomfort isn't a problem.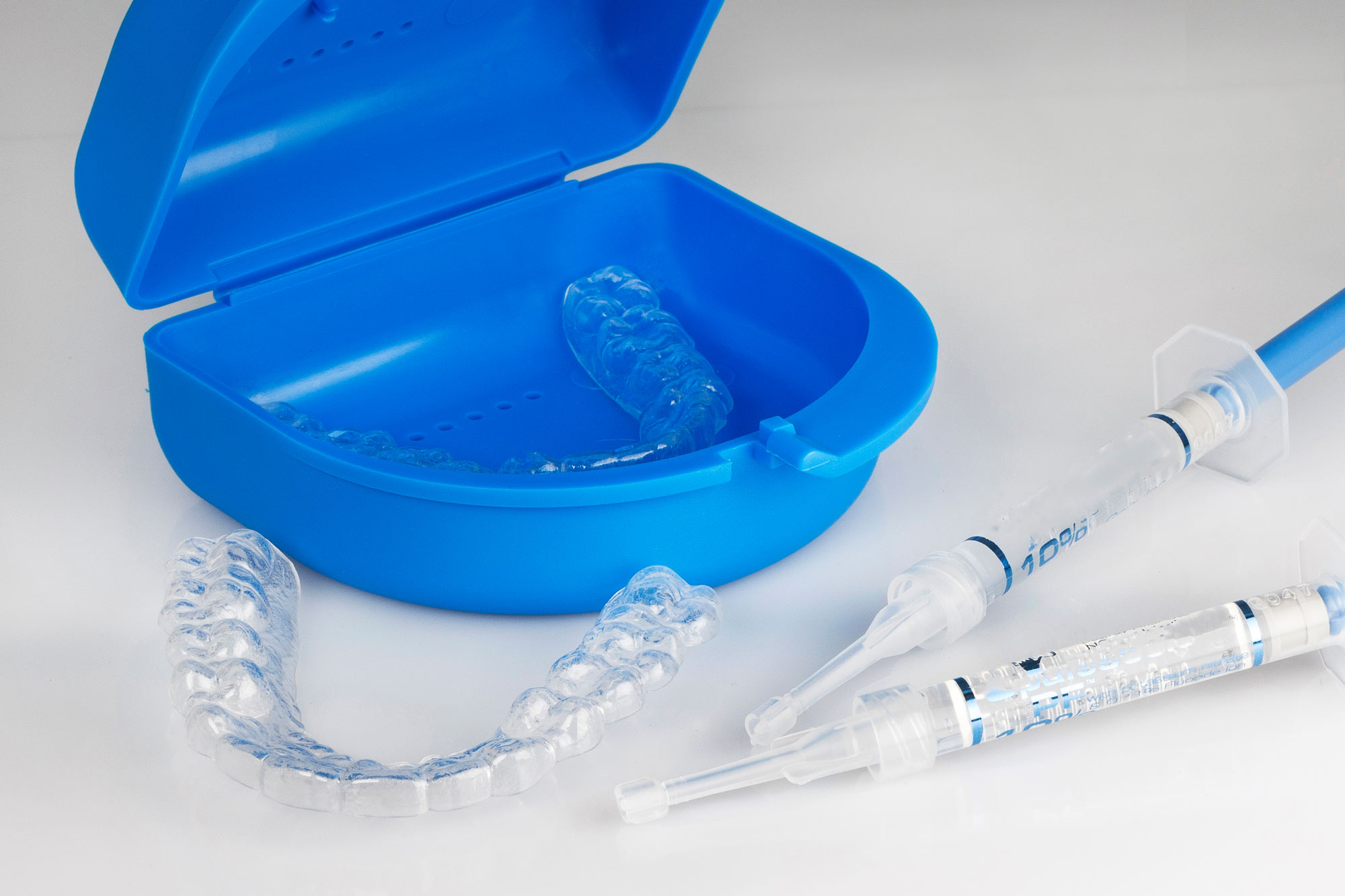 Professional Whitening Works Best
What Does
At-Home Whitening Look Like?
Consultation and Impressions
Like in-office whitening, at-home whitening begins with consultation with our helpful dentists. You'll work together to formulate an effective treatment plan.

During your appointment, we'll take impressions of your smile to create custom whitening trays that feel comfortable in your mouth. When they're finished, we'll give them to you so you can start your treatment.
At-Home Tray Use
Your dentist will formulate a whitening gel solution for you during your consultation. They'll send you home with a kit that includes your custom tray and your custom solution.

Simply line the trays with the whitening gel, put them in your mouth, and wear them for the prescribed amount of time to visibly whiten your teeth. Repeat the process daily over the course of two to three weeks.
A Testimonial
From a Longtime Patient
"I have been going to Harris Dental for 20+ years. Great doctors and great people!"

Madison Ward Johnson